Healthy Tailgating Recipes
To find healthy, delicious tailgating recipes, from the food and nutrition experts at EatingWell click here.
Reducing Sugar Intake Improves Health Quickly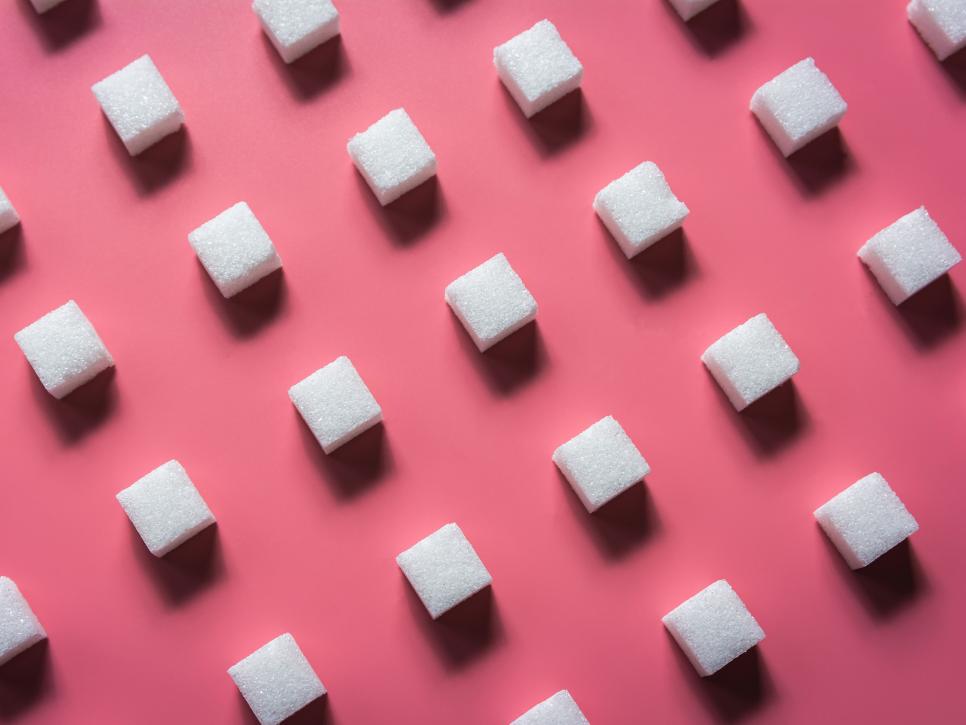 We know sugar is not exactly the healthiest thing we can consume, but a new study underscores just how dramatically and speedily eliminating it from our diets can affect our well-being. The study, which will be published in the September issue of Gastroenterology, looked at obese children who habitually consumed sugar (fructose). The children's sugar consumption was restricted for nine days without a change in overall calories; the sugar calories they had been consuming were replaced by complex carbohydrates. In that short amount of time — just nine days — the children showed less conversion of sugar to fat, a reduction in liver fat, and improvement of insulin, glucose and lipid metabolism. The findings indicate that reducing sugar intake even short-term may lower the risk for obesity, fatty liver disease, metabolic syndrome, cardiovascular disease and type 2 diabetes. Read more here...
Can You Develop Food Allergies at Any Age?
Preliminary data from a large, new national study that is currently under review suggests that nearly 52 percent of American adults with a reported food allergy developed one or more food allergies after age 18. An estimated 5 percent of adults in the United States have a food allergy, compared with about 8 percent of children. And while some children outgrow allergies — usually those to milk, eggs, and wheat — many retain their allergies through adulthood. Dr. Ruchi Gupta, a food allergy researcher at the Ann and Robert H. Lurie Children's Hospital of Chicago and Northwestern University Feinberg School of Medicine, who led the national study, noted that at allergy meetings around the world, "you'd hear more and more about adult-onset food allergy. But this was all anecdotal. That's the reason we did the study, to get the numbers behind how frequently." Read more here...
Confused about the potential benefits and risks of drinking raw milk?
Most of those who want consumers to have unfettered access to raw milk insist that pasteurization destroys nutritional value. Sometimes they also assert that raw milk tastes better. Neither claim is unconditionally true. On the other side, adherents of pasteurization are bent on warning the public that without it we can expect the unhindered spread of milk-borne pathogens. This, too, is only partly true. Certainly, a glass of raw milk sampled at the farm is going to taste different from supermarket milk. But pasteurization is only one of the industrial processing steps responsible for the difference. Virtually all the pasteurized milk that reaches us has been separated, recombined and homogenized. These steps do more to denature milk than anything else that happens to it. The creamier mouthfeel and fresher flavor of whole raw milk at a well-run farm reflect not just actual freshness but the fact that the basic milk structure is intact. You can get nearly the same effect from unhomogenized pasteurized milk — at least if it comes to you fresh and was not ultrapasteurized. Read more here...
Back-to-School Meal Planner
Find recipes and tips for easy family meals, creative lunches, and quick breakfasts that will ease back-to-school stress for you and your kids. Read more here...
Don't Fall for the 'Memory' Pills Targeting Baby Boomers
A lot of people made the same bad joke on Twitter when Senator John McCain seemed confused during former FBI Director James Comey's Senate testimony last week. "Get John McCain some Prevagen!" The joke makes no sense unless you know what Prevagen is—which you probably don't unless you frequently watch one of the major news networks. It's a nootropic dietary supplement, aka a "smart drug," mostly marketed to baby boomers on TV as a memory enhancer. "Prevagen is a dietary supplement that has been clinically shown to help with mild memory problems associated with aging," its marketing materials say. The thing is, though, there's no evidence the drug works. Read more here...
Keep your pet safe from these summer health hazards
For most people, summer means lazy days at the pool or beach, lots of sunshine, and outdoor barbecues with family and friends. But certain outdoor activities -- along with the extreme heat the season often brings -- can put your pet's health at risk and may even be life-threatening. Read on to learn how to keep your pet safe from some of the most common summer health hazards. Read more here...
Will gut microbiota provide the solution to all of our health problems?
Conditions that represent some of the leading causes of mortality worldwide—including obesity, diabetes, cardiovascular disease, and cancers—are linked with observable changes in the human gut microbiota. And many other chronic conditions, like inflammatory bowel disease, asthma and allergies, rheumatoid arthritis, and even myalgic encephalomyelitis/chronic fatigue syndrome (ME/CFS), have also been linked with gut microbiota dysbiosis. Read more here...
When You Wake Up Doesn't Matter, But How You Wake Up Does
You already know the benefits of being a morning person—you've heard them before from many people and read about them on just about every lifestyle site, including ours. But the truth is, when you wake up doesn't actually matter (outside of making it to work or class on time, of course). What's more important is how you wake up and what you do to start the day, because it can affect how the rest of your day goes and how you feel. To start your day off the right way at any time, try adding these simple but important steps into your wake-up routine. Read more here...
Does sweating make your workout more effective?
I used to love the Thursday evening yoga classes at my no-frills New York City gym. The class was super beginner-friendly, it was a great way to wind down from the week, and the flow was heavy on the vinyasa with a blissfully long savasana. (I'm pretty sure I fell asleep 92 percent of the time.) By the end of each 60-minute class, I usually felt both refreshed and invigorated. But I never felt like I got a workout. Read more here...
7 Delicious Paleo Snack Ideas
When you're on a specific diet, snacks can be huge for helping you stay on track without feeling like you're ready to devour the next remotely edible thing that crosses your path. But finding snacks that fit your dietary needs can be tricky, especially if you're on something like the Paleo diet. In case you're only vaguely familiar with it, the Paleo diet encourages fans to eat like a caveman would. That means this diet is big on things you can hunt and gather, like meat, fish, nuts, regional fruits and vegetables, leafy greens, and seeds, and not so into pastas, dairy products, and cereals. Read more here...
This summer, as millions of Americans fire up the grill, the simple act of flipping over a better burger could make a huge difference for your health and the environment.
More people eat beef on Memorial Day than on any other day—even more than on July 4 or Labor Day. Those burgers may taste good, but most of them come from animals raised in filthy, cramped conditions in industrial feedlots, fed a diet of pesticide-doused GMO corn and soy, and routinely given antibiotics and hormones. The result: environmental destruction, unhealthy animals and a real threat to personal and public health. This summer, as millions of Americans fire up the grill, the simple act of flipping over a better burger could make a huge difference for your health and the environment. More people eat beef on Memorial Day than on any other day—even more than on July 4 or Labor Day. Those burgers may taste good, but most of them come from animals raised in filthy, cramped conditions in industrial feedlots, fed a diet of pesticide-doused GMO corn and soy, and routinely given antibiotics and hormones. The result: environmental destruction, unhealthy animals and a real threat to personal and public health. Read more here...
Lifestyle changes, not a magic pill, can reverse Alzheimer's
Last summer, a research group from the University of California, Los Angeles (UCLA) quietly published the results of a new approach in the treatment of Alzheimer's disease. What they found was striking. Although the size of the study was small, every participant demonstrated such marked improvement that almost all were found to be in the normal range on testing for memory and cognition by the study's end. Functionally, this amounts to a cure. Read more here...
Why eating fresh fruit could actually lower your risk of diabetes
You might have heard about papaya's probiotic powers, or the mega-nutritous (and protein-packed) jackfruit—but usually when nutrition pros talk about fruit, they're advising you choose from the low-sugar options (and definitely skip the dried variety altogether). But according to a new study, nature's candy may reduce the risk for developing diabetes. The observational study, published in PLOS Medicine, tracked the health and diet of more than 500,000 adults in China for seven years. It found that those without diabetes at the start who ate fresh fruit daily were found to have a 12 percent lower risk of developing the disease than those who ate none. Read more here...
Want a healthy brain as you age? Live a healthy life
Adopting a healthy lifestyle can protect the brain against several risk factors for Alzheimer's disease, Mayo Clinic research shows. Controlling blood pressure and cholesterol and avoiding obesity, smoking and diabetes are among the steps that can help preserve brain health, according to the study, published in JAMA Neurology. Neurologists believe two aspects make up Alzheimer's disease: Amyloid deposits: Toxic proteins that build up plaques on the brain. Neurodegeneration: Loss of structure and function of neurons in the brain. Read more here...
The Toxins That Affected Your Great-Grandparents Could Be In Your Genes
Michael Skinner's biggest discovery began, as often happens in science stories like this one, with a brilliant failure. Back in 2005, when he was still a traditional developmental biologist and the accolades and attacks were still in the future, a distraught research fellow went to his office to apologize for taking an experiment one step too far. In his laboratories at Washington State University, she and Skinner had exposed pregnant rats to an endocrine disruptor—a chemical known to interfere with fetal development—in the hope of disturbing (and thereby gaining more insight into) the process by which an unborn fetus becomes either male or female. But the chemical they used, an agricultural fungicide called vinclozolin, had not affected sexual differentiation after all. The scientists did find lower sperm counts and decreased fertility when the male offspring reached adulthood, but that was no surprise. The study seemed like a bust. But... Read more here...
Beat Your Allergies This Season With These Doctor-Approved Tips
April showers may bring May flowers, but with warmer temperatures across the country this year, spring has sprung earlier than expected. Sheets of yellow cover cars, driveways, and our clothes—a guarantee for a longer, more troubling allergy season. So before you knock yourself out with an over-the-counter medication, here are a few ways to beat your allergies this season and enjoy the warmer weather ahead. Read more here...
Senior Exercise and Fitness Tips
There are many reasons why we tend to slow down and become more sedentary with age. It may be due to health problems, weight or pain issues, or worries about falling. Or perhaps you think that exercising simply isn't for you. But as you grow older, an active lifestyle becomes more important than ever to your health. Getting moving can help boost your energy, maintain your independence, protect your heart, and manage symptoms of illness or pain as well as your weight. And regular exercise is also good for your mind, mood, and memory. No matter your age or your current physical condition, these tips can show you simple, enjoyable ways to become more active and improve your health and outlook. Read more here...
7 Incredible Results You Can Get From Stretching Every Day
Ever since your very first PE class in elementary school, you've heard that stretching is important. But when you're short on time, you may be tempted to skip the stretches so you can log a few extra minutes of cardio. Don't. Whether you're about to start your CrossFit workout or aren't planning to break a sweat at all today, daily stretching is a healthy habit that really pays off. Here are some of the perks it may provide. (Get long and lean with sexy Flat Belly Yoga!) Read more here...
Could eating yogurt help treat depression?
Researchers found that Lactobacillus - "friendly" bacteria present in live-cultured yogurt - reversed depressive-like behavior in mice by altering their gut microbiome, the population of microorganisms that reside in the intestines. The study authors - from the University of Virginia School of Medicine - believe it is possible that the probiotic could do the same for humans. "The big hope for this kind of research is that we won't need to bother with complex drugs and side effects when we can just play with the microbiome," says lead researcher Alban Gaultier, Ph.D., of the Center for Brain Immunology and Glia at Virginia. Read more here...
Diabetes Meal Plans and a Healthy Diet
A diabetes meal plan is a guide that tells you how much and what kinds of food you can choose to eat at meals and snack times. A good meal plan should fit in with your schedule and eating habits. Some meal planning tools include: The plate method, Carb counting, Glycemic index. The right meal plan will help you improve your blood glucose, blood pressure, and cholesterol numbers and also help keep your weight on track. Whether you need to lose weight or stay where you are, your meal plan can help. Read more here...
A Star Chef's Recipe for True Romance
Manhattan's exalted seafood restaurant Le Bernardin, chef Eric Ripert has devised a low-stress, personal alternative for Valentine's (he considers it his "go to") or really any morning you have a bit of extra time for love. He makes his wife Sandra an exceedingly simple breakfast in bed, a version of the classic French Oeufs en Cocotte, or baked eggs. The recipe requires just a handful of ingredients and a few pieces of equipment: a knife, a cheese grater, and some ramekins. Even a regular oven is optional; Ripert created the recipe specifically to be made in a toaster oven. Read more here...
Eating Your Way to a Healthy Brain
When most of us think about our diets, we generally do so with only our waistlines in mind. But a recent story in Forbes Magazine by contributor Alice G. Walton got us thinking about something else that could succumb to age if we don't take care of it: our brains. Walton writes that research is beginning to show that in addition to helping us slim down, some diets may also help maintain our brain's shape, size and function as we age. Read more here...
11 Food Rules For The Ultimate Anti-Inflammatory Diet
If you want to eat for long-term health, lowering inflammation is crucial. Inflammation in the body causes or contributes to many debilitating, chronic illnesses — including osteoarthritis, rheumatoid arthritis, heart disease, Alzheimer's disease, Parkinson's disease, and even cancer. Recent research finds that eating this way not only helps protect against certain diseases, but it also slows the aging process by stabilizing blood sugar and increasing metabolism. Read more here...
Setting New Goals
As we reflect on another year behind us, what were your 2016 highlights? Was there a new job, or start of a business or how about a new baby or grandbaby? We seem to measure our life by the years and taking a look in the rear-view mirror for a brief time to reflect is good, but more important is planning for the future. I always feel excited about starting a brand new year!
Read more here...
Some Favorite Fruit-Rich and Vegetable-Rich Recipes
Enjoy these healthy recipes: One-Pot Pasta Primavera, Cauliflower Flatbread Pizza Recipe, Spicy Mango Mandarin Read more here...
How Sex Helps Your Heart
having an active sex life can cut a man's risk of dying from heart disease in half. Further, a British study shows that for a man, having an orgasm several times a week offers potent protection against heart attack and stroke. The results are not so clear for a woman, but a healthy sex life seems to equate to being happier and better health overall for a woman. Read more here...
Comfort Foods and Thanksgiving – Make it Healthy
So, here are some tips for making Thanksgiving healthier this year, and some tips for avoiding gaining an extra three pounds over one week-end. Admittedly, some of these ideas might ruffle a few feathers at first. Thanksgiving is one holiday where it seems that no one likes change, and people try to make everything stay the same, but if you take a gentle approach, it can all work out. Read more here...
Thanksgiving - What to Eat When Pregnant
The good news is that most of the traditional dishes we eat at Thanksgiving are pretty healthy, usually freshly made, and perfectly great to eat while pregnant. Being pregnant though, you and your soon-to-arrive little one are susceptible to certain food bacteria and toxins. Here then are some reminders to make your Thanksgiving thoroughly enjoyable. Read more here...
11 Charts - Everything That's Wrong With The Modern Diet
The modern diet is the main reason why people all over the world are fatter and sicker than ever before. Everywhere modern processed foods go, chronic diseases like obesity, type 2 diabetes and heart disease soon follow. The studies are clear on this... when people abandon their traditional foods in favor of modern processed foods high in sugar, refined flour and vegetable oils, they get sick. Of course, there are many things that can contribute to these health problems, but changes in the diet are the most important factor. Read more here...
8 Foods Even The Experts Won't Eat
Food scientists are shedding light on items loaded with toxins and chemicals--and simple swaps for a cleaner diet and supersized health. Experts from different areas of specialty explain why they won't eat these eight foods: Canned Tomatoes, Corn-Fed Beef, Microwave Popcorn, Non-organic Potatoes, Farmed Salmon, Milk Produced With Artificial Hormones, GMO Unfermented Soy, Conventional Apples.
The Harvard School of Public Health: Get Plenty of Vegetables and Fruits
"Eat your fruits and vegetables" is one of the tried and true recommendations for a healthy diet. And for good reason. Eating plenty of vegetables and fruits can help you ward off heart disease and stroke, control blood pressure, prevent some types of cancer, avoid a painful intestinal ailment called diverticulitis, and guard against cataract and macular degeneration, two common causes of vision loss. Read more about the benefits of fruits and vegetables here...
Breast Cancer Prevention: Good Foods
Diet and nutrition can play a significant role in the chances of developing breast cancer, especially if you have a family history of the disease. Some foods may help to prevent or lessen the risks - Dr. Weil encourages all women to give them a try.
Diet heavy in fruits, vegetables protects mental health, while fast food may invite depression: Finland study
A diet rich in fruits and vegetables will not only lead to a slimmer figure and better physical health, it may also lower the risk of depression according to new study. And while fast food that may be momentarily satisfying, burgers, fries, shakes and other high-fat, high-sugar foods were additionally shown to increase the likelihood of experiencing depression. Read more about the benefits of fruits and vegetables here...
GMO Foods in Your Multi-Vitamins
Most of us have been told 'take your vitamins' on more than one occasion, and we listen because…well, because vitamins are good for you. Right? Plus, not everyone likes to eat their broccoli. The problem is that the vitamin industry has been tainted with Big Ag and Big Pharma, too. Consider the fact that Bayer is one of the largest makers of vitamins for children. This is a huge drug and chemical giant responsible for helping to develop many GMOs, all while creating health-boosting vitamins? Questionable. Can we really trust these companies with our health? Read more about GMO in your vitamins here...
Turmeric: Powerful Anti-Cancer Agent
A simple, yet highly effective way to thwart cancer and protect your liver against disease can be found in a common spice that has been used in Indian cooking for thousands of years. Turmeric, and more specifically, curcumin, its primary active ingredient, continues to shine as an awe-inspiring, anti-cancer "superfood" spice with a vast array of tangible health benefits, including its ability to induce cancer cell death and prevent cirrhosis. Read more about tumeric and cancer here...
Do Hot Dogs Really Cause Cancer?
The American Institute for Cancer Research and World Cancer Research Fund reviewed thousands of studies, and continue to review ongoing research that reflect a hot dog-cancer connection. Its conclusion: Processed meats, including hot dogs, bacon, and deli meats, are linked to increased colorectal cancer. It's hard to point the finger at just one culprit -- preservatives, saturated fat, or other ingredients -- but the preservatives sodium nitrite and sodium nitrate should be avoided.
Canola Oil
Olive Oil comes from olives, and Sesame Seed Oil comes from sesame seeds. It would make sense that Canola Oil comes from Canola Seeds, right? Well, there's actually no such thing. Canola is a made-up word which stands for "Canadian oil low acid", and is a genetically modified product. It is a Canadian invention that is backed by the government. It's a cheap product to manufacture, and almost all processed or packaged foods contain canola oil. Canola oil was first bred in the early 1970′s as a natural oil, but in 1995 Monsanto created a genetically modified version of canola oil. By 2009, 90% of the Canadian crop was genetically engineered and as of 2005, 87% of canola grown in the United States was genetically modified. Read more about canola oil here...
Fruit, Vegetables and Bladder Cancer
581 invasive bladder cancer cases (429 men and 152 women) were diagnosed and the researchers found that women who consumed the most fruits and vegetables overall, the most total vegetables, yellow-orange vegetables, total fruits and citrus fruits had lower risks of invasive bladder cancer. Women with the highest intake of vitamins and minerals found in fruits and vegetables, including vitamins A, C, E and beta-carotenes, also had lower risks of bladder cancer.
Fruit and vegetable and nutrient intake didn't impact overall bladder cancer risks in men. However, in subgroups of men, the study found that vegetable consumption reduced the bladder cancer risks of male smokers, and fruit and vegetable intake was associated with lower cancer risks in Latino men.
10 American Foods That Are Banned in Other Countries
Americans are slowly waking up to the sad fact that much of the food sold in the US is far inferior to the same foods sold in other nations. In fact, many of the foods you eat are BANNED in other countries. Seeing how the overall health of Americans is so much lower than other industrialized countries, you can't help but wonder whether toxic foods such as these might play a role in our skyrocketing disease rates. Read more about banned foods here...
Hypothyroidism/Hyperthyroidism and Goitrogenic Effect
When whole foods are ingested, all the phytochemicals and nutrients are intact, so they will have a balancing, healthful effect on the thyroid. That is, whole foods may contain compounds that both slow and speed thyroid function but the body's ability to selectively absorb allows a choice of what and how much of these components are used. In several countries around the world that enlist "natural medicine," many of the foods listed above have been used to treat both hypo and hyperthyroidism. Read more about Hypothyroidism & Hyperthyroidism here...
Antibiotics in Food
the FDA does not allow hormones in chicken so it is merely claiming that they are following federal regulations, nothing more. On the contrast, antibiotic free chicken is a great step up from conventionally raised chicken. When a chicken is given antibiotics, it depresses their immune system. We eat the chicken and in turn ingest these antibiotics as well. Antibiotics should be reserved for when people really need them; not overused to make the birds grow faster and make up for terrible living conditions.
Heart surgeon speaks out on what really causes heart disease
The former recommendations are no longer scientifically or morally defensible. The discovery a few years ago that inflammation in the artery wall is the real cause of heart disease is slowly leading to a paradigm shift in how heart disease and other chronic ailments will be treated. The long-established dietary recommendations have created epidemics of obesity and diabetes, the consequences of which dwarf any historical plague in terms of mortality, human suffering and dire economic consequences. Despite the fact that 25% of the population takes expensive statin medications and despite the fact we have reduced the fat content of our diets, more Americans will die this year of heart disease than ever before. Read more about heart disease here...
Organic foods no healthier than conventional foods?
If you read the mainstream news headlines today, you might be shocked to see headlines that say things like, "Organic foods no healthier than conventional foods" or "Organic foods may not be healthier for you." You'll see these headlines all across the usual disinfo outlets: NPR, Associated Press, Reuters, Washington Post, WebMD and elsewhere. The problem with these headlines is that they are flatly false. The study these news outlets are quoting actually confirms that organic foods are far healthier for you than conventional foods. Read more about a recent study here...
What do those codes mean on fruits and vegetables?
here is some help in deciphering food labels on produce and packaged food. Smart reading will tell you where it's from, if it's genetically modified and what food colorings, fats, sugars and preservatives are in it. Did you know that the little tag on fruits and vegetables holds a world of info? Read more about fruit and vegetable codes here...
Lifestyle changes can prevent 40% of cancers: Study
An eye-opening new study suggests cancer can be prevented by simple lifestyle changes. These changes may ward off cancers for every 4 out of 10 people. "Many people believe cancer is down to fate or 'in the genes' and that it is the luck of the draw whether they get it," study author Professor Max Parkin, a Cancer Research UK epidemiologist based at Queen Mary, University of London, said in a written statement. "Looking at all the evidence, it's clear that around 40 percent of all cancers are caused by things we mostly have the power to change." Read more about preventing cancer here...
An Immune Disorder at the Root of Autism
In recent years, scientists have made extraordinary advances in understanding the causes of autism, now estimated to afflict 1 in 88 children. But remarkably little of this understanding has percolated into popular awareness, which often remains fixated on vaccines. So here's the short of it: At least a subset of autism — perhaps one-third, and very likely more — looks like a type of inflammatory disease. And it begins in the womb. Read more about a recent study here...
Coconut Oil & Alzheimer's
One morning last month, Vrajlal Parmar got up, washed and dressed himself, and at 10am boarded the council minibus to a nearby leisure centre. In the evening, the 67-year-old former production line worker from London took the bus home. Nothing remarkable there — except that nearly a year earlier Mr Parmar had been diagnosed as being in the late stages of Alzheimer's. He'd been given the Mini Mental State Examination — that doctors use to diagnose Alzheimer's, a healthy person would score 30.
The letter Mr Parmar's family got back from the Cognitive Disorders Clinic at University College London stated that he was 'too severely affected to score anything at all'. Any drug treatment would be ineffective.
'Dad was so far gone he couldn't do anything for himself,' says his son Kal Parmar, a filmmaker who together with Vrajlal's wife, Taramati, looks after him at their home in London. Read more about coconut oil & Alzheimer's here...
Healthy Eating
If you're like the majority of American adults, you may believe you have healthy eating habits when in reality there are some key nutritional gaps. A study conducted by HealthiNation revealed Americans have an overly optimistic view of their nutritional well-being (link to http://www.sys-con.com/node/1753118). The study shows that 52% of adults feel they are achieving a balanced diet and eating right when in reality, 76% of adults don't get the daily minimum amount of fruits and vegetables recommended by the USDA.Read more about a healthy diet here...
Whole Food Based Supplements
Everyone wants to eat right and maintain a healthier lifestyle - whether you're a busy mom hustling to feed on-the-go children, a business traveler trying to stay fit, or an active boomer keeping up with grandkids. All of us try to eat better for good health, but a healthy diet is often a challenge. We simply don't eat enough fruits and vegetables. And that hurts our health and wellness.Watch several doctors talk about whole food supplements here...
Whole Food Based Nutrition
According to the National Cancer Institute, antioxidants are "substances that may protect cells from the damage caused by unstable molecules known as free radicals. Examples of antioxidants include beta-carotene, lycopene, vitamins C and E and other substances. Many of these antioxidant substances come from fruits and vegetables." Read more about Whole Food Based Nutrition here...
Children's Health Study
More than ever, our children's health is at risk because of what kids eat - too much processed food, too much junk food, too much fast food. When Mom and Dad say "eat your fruits and vegetables," it's an unappetizing prospect to a generation fueled by sodas, fries, and candy bars. The Children's Health Study shows that the result of whole food based nutrition makes a real difference in family health and wellness. Read about the results of the Children's Health Study here...
Nutrition for a healthy heart: New study shows Juice Plus+ supports heart and lung health
Research has shown Juice Plus+ provides nutrition for a healthy heart and a study just published in the Journal of the American College of Nutrition confirms that Juice Plus+ positively impacts several key indicators of cardiovascular wellness. In addition, it supports healthy lung function and improves folate status.
If you are a smoker be sure to read this study...
Excess Body Fat Causes Cancer
The evidence that excess body fat increases the risk of developing cancer is much stronger now than ever before, according to a landmark report issued today by the American Institute for Cancer Research (AICR) and the World Cancer Research Fund (WCRF). Evidence linking consumption of alcohol, red meat and processed meat to increased risk is also deemed convincing.
Read more about diet caused cancer here...
Better Functioning Bowels
Wendy Campbell starts people with any irritable bowel symptoms/Crohn's/Ulcerative Colitis etc with Juice Plus Gummies first as they don't have a lot of fiber. The antioxidant value in them starts to heal the bowel and then she gradually introduce the capsules with that fabulous thing – FIBER.
The American/Australian diet of processed food, too little fibre, erratic eating habits, medications, stress and disease slow down the peristaltic action of the GASTROINTESTINAL (GI) musculature resulting in 95% of our population leaning towards constipation and other GI conditions. And, it's not just a problem with FEELING BAD since most of the nutrients consumed to FUEL OUR BODIES are absorbed in the small intestine.
Is Your Protein Shake Safe?
Protein shakes, powders, and supplements are incredibly popular with the health conscious crowd. Considering what typical protein shakes promise – sleek muscles, weight loss and a quick, easy "healthy" meal replacement – it's logical to see why. Unfortunately, the food industry is making an absolute killing (maybe literally) selling ones that are filled with highly processed denatured proteins, chemicals, preservatives and other additives. There's one thing in common for all of them – they are all processed and deciding on whether or not they are actually "real food" comes into question. Now not all processed things we put in our body are technically bad for us – but understanding what exactly is in your protein shake is critical to deciding whether to consume it, select an alternative, or discontinue use all together.
Read more here...
The 7 Most Prescribed Drugs In The World And Their Natural Counterparts
HYDROCODONE (Acetaminophen/Vicodin/Oxycontin) - Use: For Pain
STATINS (Generic versions of Lipitor/Zocor/Crestor) - Use: Reduction of LDL Cholesterol
LISINOPRIL (Prinivil/Zestril) AND NORVASC (Amlodipine) - Use: Reduction of High Blood Pressure
SYNTHROID (levothyroxine sodium) - Use: Hypothyroidism
PRILOSEC (omeprazole/generic versions of nexium) - Use: Antacid
AZITHROMYCIN AND AMOXICILLIN - Use: Antibiotic
GLUCOPHAGE (metformin) - Use: Oral anti-diabetic drug
Read more about the natural remedy counterparts here...
10 Steps for Better Heart Health
In the United States, heart disease affects about 9 million adults, killing one every 37 seconds. But the good news is that heart-disease is mostly preventable. Research shows that up to 90 percent of heart disease can be prevented by changing one's diet, exercising more, maintaining a healthy weight and not smoking.
Eating Right To Prevent A Stroke
Did you know that strokes are the third leading cause of death in the United States? We all know about spring cleaning and cleaning out our homes, but have you ever thought about "cleaning" out your eating habits and arteries?
Artery-Cleansing Food: The Next Health Trend?
According to the NY Daily News, artery-cleaning foods like the fiber powder Artinia are set to become the next big health trend, with new food products promising to help clean out your arteries with every bite. But is this trend really good for you? And can it, as these products claim, really help clean out your arteries?
Read more here...
Diet key to longer life, even when you're old
Even in your elder years, eating healthy foods can help you live longer, a new study suggests. In the study, older adults who ate mainly healthy foods — such as vegetables, fruit, poultry, low-fat dairy products and whole grains — had a lower risk of death over a 10-year period than those who ate less-healthy foods, including high-fat dairy products.
Read more here...
Diet rich in fruits and vegetables can overcome genetic risk for heart disease: study
You can't change the genes you are born with but you can change the way they affect your health. A new study suggests people genetically predisposed to a higher risk of heart attacks can overcome that risk by eating a diet rich in fruits and raw vegetables. The effect is so significant that it reduces the risk to the same level as those born without the genetic disposition.
Phytochemicals in plant-based foods fight obesity and prevent disease, researchers say
If you ever feel tempted to go for a cheeseburger, fries and a soft drink, consider this: along with the fast food, you are ordering up an increased risk of heart disease, diabetes and obesity. But the opposite is true, too. According to a new University of Florida (UF) study, if you stay away from processed and fast foods and instead eat a lot of veggies, nuts and fruits, you will actively be helping to prevent or reverse harmful metabolic processes in your body. The result? Better health and a slimmer body.
Read more here...
Eat Your Fruits and Vegetables
"Eat your fruits and vegetables." You've likely heard this statement since childhood. Research shows why it is good advice:
Healthy diets rich in fruits and vegetables may reduce the risk of cancer and other chronic diseases.
Fruits and vegetables also provide essential vitamins and minerals, fiber, and other substances that are important for good health.
Most fruits and vegetables are naturally low in fat and calories and are filling.
Read more here... and here... and here...
Eating orange and dark green vegetables linked to longer life
Eating lots of orange and dark green veggies such as carrots, sweet potatoes and green beans may be tied to less disease and longer life, suggests a new study. This time it is not the beta-carotene in vegetables that has the spotlight, but rather its cousin: alpha-carotene. Both are members of the carotenoid antioxidant family. Scientists believe carotenoid antioxidants promote health by counteracting oxygen-related damage to DNA.
Read more here...
Eating the right foods can do a number on bad cholesterol
Nutrition experts have known for years that some foods, such as oatmeal, nuts and soy products, lower cholesterol. Now, a new study shows that a diet with several of these foods can decrease LDL (bad) cholesterol significantly. David Jenkins of St. Michael's Hospital and the University of Toronto and colleagues recruited 345 Canadian men and women with high cholesterol. Their LDL (bad) cholesterol was an average of about 170 mg/dL at the beginning of the study.
Read more here...
Eight-a-day may reduce heart disease risk by 22 percent: EPIC study
Eating more fruit and vegetables may reduce your risk of heart disease by up to 22 percent, according to a new study.
Read more here...
Food can act as medicine
Say you eat yogurt for your health, and most Americans will know what you mean: You are targeting that food's bone-building calcium and gut-friendly probiotics. In fact, Americans are much more aware of the health benefits of specific "functional" foods than they were a decade ago, a survey reports today.
Read more here...
Four Heart Treatments Questioned In Studies
Four strategies commonly used to treat cardiovascular disease—ranging from a $10,000-plus procedure for preventing strokes to a generic pill that costs a quarter—turn out in recent studies to have little benefit for patients. The findings suggest that doctors and patients should consider alternatives to the strategies where they exist. They also reflect a persistent phenomenon in medicine where doctors and patients embrace new technology only to find that it may not be good medicine once exposed to rigorous testing.
Read more here...
Fruits & Vegetables Prevent Disease
In the not so distant past, nutritionists and consumers viewed fruits and vegetables as average foods. Recent studies have dramatically changed this perspective. We now know fruits and vegetables are packed with chemicals capable of preventing a host of diseases, including heart disease and cancers. In this article, I highlight some of the scientific evidence for the protective benefits of plant-based diets, with an emphasis on the benefits of fruits and vegetables.
Read more here...
Nutrition and Aging - Dietary Recommendations for Seniors
Aging is a universal human experience, yet we still don't have a clear understanding of it's causes or ways to prevent it. Many suspect nutrition has a lot to do with the way and speed we age, and I think for a good reason. I have put together a summary of nutrition suggestions for seniors that, while not promising reversal of the aging process, are proven to assist in minimizing the damage old age inflict on our bodies and minds.
Read more here...
Intake of vegetables rich in carotenoids and risk of coronary heart disease in men: The Physicians' Health Study
Previous studies of diet and coronary heart disease (CHD) have focused on intake of nutrients rather than whole foods. Because of the findings that dietary fibre, folate and antioxidants may be protective for CHD, increased intake of vegetables has been recommended. However, due to the chemical and physical complexity of vegetables, the effects of individual nutrients may differ if eaten as whole foods. Moreover, little is known about the direct association between vegetable intake and risk of CHD.
Read more here...
Fruit and Vegetable Intake and Risk of Major Chronic Disease
Studies of fruit and vegetable consumption in relation to overall health are limited. This evaluation is of the relationship between fruit and vegetable intake and the incidence of cardiovascular disease and cancer and of deaths from other causes in two prospective cohorts. Methods: A total of 71,910 female participants in the Nurses' Health study and 37,725 male participants in the Health Professionals' Follow-up Study who were free of major chronic disease completed baseline semiquantitative food-frequency questionnaires in 1984 and 1986, respectively.
Read more here...
Beyond 5 A Day
After hearing the 5 A Day goal for fruit and vegetable consumption for the last 15 years, only 40 percent of Americans meet the goal, according to new analysis from the National Cancer Institute and the U.S. Department of Agriculture. Unfortunately, updated nutrient recommendations since the 5 A Day goal was formulated mean that even many adults who reach that mark aren't really getting enough. Recommendations now call for eating more produce and including a broader selection of high-nutrient vegetables.
Read more here...
Lowering Your Blood Pressure With DASH
What you choose to eat affects your chances of developing high blood pressure, or hypertension (the medical term). Recent studies show that blood pressure can be lowered by following the Dietary Approaches to Stop Hypertension (DASH) eating plan—and by eating less salt, also called sodium.
Read more here...
Vegetable and Fruit Intake and Pancreatic Cancer
Pancreatic cancer is one of the most devastating and rapidly fatal cancers, yet little is known about the primary cause and prevention of this disease. We conducted a population-based case-control study to investigate the association between vegetables and fruits and pancreatic cancer. Between 1995 and 1999, 532 cases and 1,701 age- and sex-matched controls completed direct interviews using a semiquantitative food-frequency questionnaire.
Read more here...
Premenopausal Breast Cancer Risk and Intake of Vegetables, Fruits, and Related Nutrients
Given the international variations in breast cancer incidence rates and the changes in breast cancer incidence among migrant populations, it has been hypothesized that diet is a factor influencing risk of this disease. Many studies indicate that a diet high in vegetables and fruits may protect against breast cancer.
Read more here...
Vegetables, Fruit, and Cancer Prevention
In this review of the scientific literature on the relationship between vegetable and fruit consumption and risk of cancer, results from 206 human epidemiologic studies and 22 animal studies are summarized. The evidence for a protective effect of greater vegetable and fruit consumption is consistent for cancers of the stomach, esophagus, lung, oral cavity and pharynx, endometrium, pancreas, and colon.
Read more here...
Thou Shalt Eat Your Whole Cereals
Whole cereals are low in fat and calories and very rich in nutrients. They are so valuable, the FDA allows health claims to be placed on foods that contain at least 51% whole-grains (whole wheat, whole oats, corn, barley, and rice), stating that they may reduce the risk of heart disease. It is no wonder they are at the base of the food pyramid, meaning we should eat more of this food group than any other. The health benefits of cereals are amazing. You will read more about them later.
Read more here...
Fruit and vegetable intake and the risk of cataract in women
Prospective data on cataract in relation to total fruit and vegetable intake are limited. This study aimed to examine whether higher fruit and vegetable intake reduces the risk of cataract and cataract extraction in a large, prospective cohort of women.
Read more here...
Healthy Eating May Help Blunt Effects of Genes That Increase Heart Attack Risk
Researchers have known that variants in a stretch of DNA on chromosome 21 confer an increased risk of developing cardiovascular disease and having a heart attack, but how such variants interact with the environment and the role that such interactions play in the development of heart disease have been unknown. Now, new findings suggest that a diet that includes generous amounts of raw fruits and vegetables may reduce that inherited risk. This finding is published online today in PLoS Medicine.
Read more here...
Healthy Living Really Does Postpone Mortality
A low-risk lifestyle, with an emphasis on healthy eating and being active, has a "powerful and beneficial" effect on mortality, CDC researchers found. People who practiced four low-risk behaviors -- not smoking, eating healthy, getting enough exercise, and drinking alcohol moderately -- were 63% less likely to die within the 18-year study period than those who kept none of those practices, Earl Ford, PhD, of the CDC in Atlanta, and colleagues reported online in the American Journal of Public Health.
Read more here...
Heart disease, a No. 1 killer, fought head-on
Heart disease is the No. 1 killer of men (and women) in the USA, so it's no wonder that cardiologist Gordon Tomaselli dispenses direct, no-nonsense advice: "Get up and move more, don't smoke, make sure you control your blood pressure and cholesterol, and don't ignore symptoms of heart disease, particularly if you have a family history."
Read more here...
How Bad Are 'America's Unhealthiest Meals'?
A consumer group recently caught our attention with a list of some of the unhealthiest dishes from popular chain restaurants. They singled out a few particular gut-busting dishes -- the sort of food found on the menu at franchises across the country. "These huge portion sizes can not only blow your diet for the day but can blow your diet for the week," said Margo Wootan, director of nutrition policy for the Center for Science in the Public Interest.
Read more here...
The 9 Unhealthiest Foods You Can Order at Restaurants
When ordering a dinner entrée at a restaurant, few expect the waiter to return with a plate that holds more than their daily supply of calories -- or enough salt to meet their maximum daily intake for three days. But if you order from the menu at some popular chain restaurants, this is exactly what you can expect to get. So says a scathing new report, titled "XTreme Eating 2009," released Tuesday by the nutrition and advocacy organization Center for Science in the Public Interest.
Read more here...
Mediterranean Diet at Italian Chains? Fuhgeddaboudit!
Customers at two of the country's largest Italian food chains could be getting much more than just a taste of Italy in their entrees. They may be getting oodles of calories and saturated fat, suggests a report published Wednesday by the Center for Science in the Public Interest. The report, published in the November issue of the Center's Nutrition Action Healthletter, panned popular Italian food chains Romano's Macaroni Grill and the Olive Garden for their less healthful offerings.
Read more here...
How Health and Lifestyle Choices Can Change Your Genetic Make-Up
Since researchers cracked the human genome some 10 years ago, we've had a heightened awareness of the importance of genetics in our risk for certain diseases and disorders, both mental and physical. Subsequent studies have continued to find connections between our genetic profiles and our likelihood of developing health problems, from breast cancer and heart attack to depression, obesity, and Alzheimer's disease. Some people choose to undergo genetic tests to determine whether they carry copies of specific genes that put them at higher risk for various diseases.
Read more here...
Flavonoid intake and cardiovascular disease mortality
Flavonoids are plant-based phytochemicals with cardiovascular protective properties. Few studies have comprehensively examined flavonoid classes in relation to cardiovascular disease mortality. This study examines the association between flavonoid intake and cardiovascular disease (CVD) mortality among participants in a large, prospective US cohort.
Read more here...
Lutein lowers oxidized LDL cholesterol levels and can prevent atherosclerosis
Lutein has long been known as a powerful nutritional agent useful for protecting vision in aging adults and for protecting against the sight-robbing condition known as macular degeneration. New research published in The Journal of Nutrition finds that the carotenoid exhibits health-promoting anti-inflammatory and antioxidant benefits that help to lower plaque forming oxidized LDL cholesterol particles, which promote arterial hardening and heart disease. Lutein is found in abundance in dark green leafy vegetables including spinach, broccoli, kale and cabbage.
Read more here...
Lycopene from tomatoes may protect against stroke
Stroke prevention may be found in a bottle of ketchup. A new study shows that people with the highest amounts of lycopene in their blood -- which is an antioxidant found in tomatoes -- were 55 percent less likely to have a stroke than those with the lowest levels. "This study adds to the evidence that a diet high in fruits and vegetables is associated with a lower risk of stroke," study author Dr. Jouni Karppi, a researcher in the department of medicine and public health at the University of Eastern Finland in Kuopio, said in a press release.
Read more here...
Oranges may help reduce stroke risk
Health officials routinely advise people to eat plenty of fresh fruits and vegetables but British and U.S. researchers say oranges may help reduce stroke risk. Aedin Cassidy at the University of East Anglia in England and colleagues at Harvard School of Medicine analyzed data on the risk of stroke in almost 70,000 U.S. nurses. They looked at what the nurses ate, especially forms of flavonoids, found in plants.
Read more here...
Predicting Heart Health in Children
Has your kid had a checkup for heart disease lately? The vast majority of heart attacks happen to people well past middle age, so a potential problem a half-century away may not be high on your list of child health-care worries. But it is well-established that heart disease begins to develop in childhood. Now, two new studies add to a burgeoning body of evidence that developing heart-healthy habits as a youngster or adolescent may have lasting benefits in adulthood.
Read more here...
Ten Foods for a Healthy Heart
Heart disease is the leading cause of death in the United States. It is also one of the main causes of death in Canada, and is killing more and more people throughout the world. Dietary advice for reducing heart disease risk includes eating a balanced diet with less saturated fat from red meat; more fresh fruits, vegetables, fiber, and fish; less sugar and sodium, and for many people, fewer total calories.
Read more here...
Watermelon, Fruit for Cardiovascular Health
Watermelon is a fruit many people associate with hot summer days and picnics, but the sweet juices of this treat have some hidden health benefits as well. Researchers from two universities report that eating watermelon may support cardiovascular health by having a positive impact on several important factors.
Read more here... and here...
White fruits shown to protect against stroke
A new study coming from the Netherlands and published in Stroke: Journal of the American Heart Association reveals that consuming large quantities of white pulp fruits and vegetables can significantly lower the risk of stroke.
Read more here...
Younger people are more susceptible to strokes
Of all the things parents worry about happening to their children, stroke usually isn't one of them. That's why Christina Lovett of Mattoon, Ill., and the family pediatrician thought her 10-year-old son, Josh, had the flu when he was vomiting and complaining of a severe headache in late January. Five days later, Josh was having trouble walking. Brain scans revealed a series of strokes.
Read more here...
Nutrition for Thyroid Health: Foods that Help and Harm
As with virtually every bodily function, your diet plays a role in the health of your thyroid. There are some specific nutrients that your thyroid depends on and it's important to include them in your diet.
A day of discomfort can result in a healthier, longer life
For years doctors have been telling their patients that a colonoscopy is an effective way to prevent the onset of colorectal cancer, but they really had nothing more than anecdotal evidence to support their claims, until now. Two studies, one done at the Memorial Sloan-Kettering Cancer Center in New York and one done in Spain, indicated the procedure is more effective than other diagnostic tests in spotting growths that can be removed before they become cancerous, resulting in longer lives of those who undergo the less-than-pleasant operation.
Read more here...
Diet and Intestinal Immunity
Cruciform vegetables may be critical to intestinal health and immunity. It turns out that these vegetables contain ligands of the aryl hydrogen receptor which, when bound, turn on genes that mediate intestinal immune defense.
Read more here...
Eat Fiber-Rich Food to Prevent Cancer
A study has found that rich nutrition diet helps in preventing cancer. The study was carried out by a team of researchers from Loma Linda University, California. It has been informed that the study was funded by the US National Institute of Health. The findings of the study have been published in the journal Nutrition and Cancer.
Read more here...
Green Veggies Aid Immune Response in the Gut
If you want to boost your chances of keeping your intestinal tract healthy, consider eating more green vegetables. Scientists at The Babraham Institute in Cambridge found that green vegetables are the source of a chemical signal that is important to the functioning of the immune system. Green vegetables ensure that intra-epithelial lymphocytes (IELs), a specialized type of white blood cell located in the gut and in the skin, function properly.
Read more here...
FDA Warns of Fracture Risk With Popular Heartburn Drugs
Blockbuster heartburn medications such as Prevacid, Prilosec and Nexium will now carry a warning on their labels linking the drugs to a heightened risk for fractures, the U.S. Food and Drug Administration announced late Tuesday. The label will advise consumers to use this class of medicines, called proton pump inhibitors (PPIs), carefully, because high doses have been associated with an increased risk of fractures of the hip, wrist and spine, the agency said.
Folate helps fight colorectal cancer
A study published in Gastroenterology, the official journal of the American Gastroenterological Association (AGA) Institute, has revealed that folic acid may influence the likelihood of developing colorectal cancer in humans. Also known as vitamin B9, folic acid is a water soluble vitamin which is not itself biologically active, but that becomes biologically relevant following its conversion to dihydrofolic acid in the liver.
Read more here...
Fresh Produce Improves Colon Health
What's not to like about fresh fruits and vegetables? Besides delivering a potent dose of vitamins and plenty of dietary fiber, such foods can be a tasty way to replace processed foods while improving colon health. Consider a new study conducted in Western Australia, which associated the consumption of fresh produce with a lower risk of colon disease.
More fiber intake associated with lower risk of death over nine year period
In an article published online in the American Medical Association journal Archives of Internal Medicine on February 14, 2011, National Cancer Institute researchers reveal the outcome of a study which found a lower risk of dying over a nine year average follow up period among men and women who consumed a high fiber diet.
Read more here...
Plant flavonoid luteolin blocks cell signaling pathways in colon cancer cells
Luteolin is a flavonoid commonly found in fruit and vegetables. This compound has been shown in laboratory conditions to have anti-inflammatory, anti-oxidant and anti-cancer properties but results from epidemiological studies have been less certain. New research published in BioMed Central's open access journal BMC Gastroenterology shows that luteolin is able to inhibit the activity of cell signaling pathways (IGF and PI3K) important for the growth of cancer in colon cancer cells.
Read more here...
Oregano compound induces programmed cell death in prostate cancer cells
A study shows that carvacrol, a compound found in oregano, induces apoptosis (programmed cell death) in cultured prostate cancer cells. Dr Supriya Bavadekar, PhD, RPh and her colleagues at Long Island University in Brooklyn administered increasing concentrations of carvacrol to androgen-sensitive metastatic human prostate cancer cells and assessed cell viability after 48 and 96 hours. The team observed a dose-dependent effect for carvacrol, due to the induction of apoptosis. The study is the first to reveal an antiproliferative effect for the compound in prostate cancer cells.
Grapes may protect against macular degeneration
An article published online on December 8, 2011 in the journal Free Radical Biology and Medicine shows a protective effect for grapes and lutein against the development of age-related macular degeneration (AMD) in a mouse model of the disease.
Read more here...
Grape seed extract proves toxic to head and neck cancer cells
Researchers at the University of Colorado report online on January 19, 2012 in the journal Carcinogenesis that grape seed extract shows an ability to reduce the growth of head and neck squamous cell carcinoma when administered to cell cultures and mice.
Read more here...
Luteolin shows promise as an agent to reduce colon cancer cell growth
In an article published in the journal BMC Gastroenterology, Korean researchers report a benefit for the flavonoid luteolin, which occurs in some fruits and vegetables, in reducing the growth of cultured colon cancer cells.
Read more here...
The China Study
Even today, as the low-carb craze sweeps the nation, two-thirds of adults are still obese and children are being diagnosed with Type II diabetes, typically an "adult" disease, at an alarming rate. If we're eating healthier, why are Americans stricken with heart disease as much as we were 30 years ago?
Read more here...
Continual Cleansing for Optimal Health and Vitality
Do you have difficulty waking up in the morning and find that you have low energy all day long? Are you unable to concentrate at work, feel sluggish and depressed? Do you suffer from poor digestion, bloating or constipation? If so, you could be a good candidate for a cleanse. Cleansing your body of accumulated toxins may help you gain energy and improve overall health. Many people report more clarity, greater alertness, over-whelming joy, and incredible insight after a cleanse.
Read more here...
Avoiding Breast Cancer with Diet
Breast cancer is clearly a terrifying disease. Out of every nine women in America, at least one will fall victim to its toll. Despite massive research and immense funding, scientists are often at odds regarding its possible causes.
China Report - Dietary Fiber: Preventing Cancer in China
The cancer-prevention properties of dietary fiber are hardly a secret. Indeed, in modern times the late Dr. Denis Burkitt (of Burkitt's Lymphoma fame) made the so-called "fiber story" famous in his work among native Africans. This British researcher, with his colleagues Alan Walker and Hugh Trowell, spent many years in Africa tirelessly working to better understand why diseases typically found in Western countries were rare in Africa. What he discovered made worldwide news. Diets high in fiber appeared to be associated with reduced cancer incidence of the large bowel, as well as the incidence of many other diseases common to Western countries.
Dare to Detox!
When people think of going through detox, they often conjure up images of drug-addicts or smokers going through a painful period of ridding their bodies of poisons. While I plan to share some gentle, healthful detoxification methods with you, I will note that most of us do indeed have accumulated poisons in our bodies that are the result chemicals that we eat, and toxins in our air, water, and environment. The comparison to drug addicts is an apt one, because many of us are indeed addicted to foods and chemicals that we consume daily, which we would do well to be rid of.
Read more here...
Understanding Micronutrients and Macronutrients
Amino acids are the building blocks of making proteins or enzymes in the body. A protein is nothing more than a chain of amino acids and 9 of the 20 some amino acids are considered essential because they have to come from food. The others, we can synthesize in the body. But, when we have an essential nutrient, it is something we must get from food.
Read more here...
When Everyday Foods Are Hard to Digest
As many as 20% of adults at some point suffer from a painful digestive disorder that is difficult to diagnose and has no cure. Treatment is hit or miss, and many sufferers never seek help because they find the symptoms hard to discuss. Irritable bowel syndrome (IBS) has long baffled gastro-intestinal experts. Some think it is caused by imbalances in gut bacteria; others point to psychological stress. Now, a small but growing contingent of specialists is focusing on food intolerances as a possible culprit—and a new dietary approach, called the low-Fodmaps diet, is gaining attention around the world.
Read more here...
Apples work magic on bad cholesterol
It raises good cholesterol, lowers bad cholesterol and contributes to weight loss. So what is this miracle substance? An apple. "I consider apples a magic food," said Bahram H. Arjmandi, Ph.D., director for the Center for Advancing Exercise and Nutrition Research on Aging at Florida State University. "Apples are not my favorite food, but I buy a bag a week and try to eat two per day. I am convinced this is what I should do if I want to remain healthy."
Cholesterol and Your Heart: Where Do We Stand?
Cholesterol. You've heard it's "bad for you," but why? Where does it come from? Does it do anything besides clog your arteries? This article will explain the relationship between high cholesterol and heart disease, describe the different types of cholesterol, and review several ways to lower a high cholesterol level, including exercise, a low-fat diet, and medication.
Read more here...
Fat kids found to have arteries of 45-year-olds
Obese children as young as 10 had the arteries of 45-year-olds and other heart abnormalities that greatly raise their risk of heart disease, say doctors who used ultrasound tests to take a peek inside. "As the old saying goes, you're as old as your arteries are," said Dr. Geetha Raghuveer of Children's Hospital in Kansas City, who led one of the studies. "This is a wake-up call."
Read more here...
Heart disease can be fought head-on
Heart disease is the No. 1 killer of men (and women) in the USA, so it's no wonder that cardiologist Gordon Tomaselli dispenses direct, no-nonsense advice: "Get up and move more, don't smoke, make sure you control your blood pressure and cholesterol, and don't ignore symptoms of heart disease, particularly if you have a family history."
Read more here...
Many more children on medication, study says
Hundreds of thousands more children are taking medications for chronic diseases, with a huge spike over a four-year period in the number given drugs to treat conditions once seen primarily in adults and now linked to what has become an epidemic of childhood obesity.
Read more here...
America's Health Checkup
If you're like 67% of Americans, you're currently overweight or obese. If you're like 27%, your blood pressure is too high. If you're like a whopping 96% of the population, you may not be able to recall the last time you had a salad, since you're one of the hundreds of millions of Americans who rarely eat enough vegetables. And what you do eat, you don't burn off — assuming you're like the 40% of us who get no exercise. Most troubling of all, if you're like any parent of any child anywhere in the world, you may be passing your health habits to your children, which explains why experts fear that this generation of American kids may be the first ever to have a shorter life span than their parents do.
Diet May Cut Cholesterol As Much As Drugs Do
Eating a diet similar to that of our simian relatives can have as much of an effect on cholesterol levels as modern medicine does, a new study suggests. Results published today in the Journal of the American Medical Association indicate that a strict, low-fat vegetarian diet high in specific plant products can lower levels of bad cholesterol as much as widely prescribed statin drugs can.
Read more here...
Young Children Now Being Targeted For Statin Drug Use
In an immediately controversial document, the American Academy of Pediatrics (AAP) has recommended that children as young as eight be treated with cholesterol-lowering statin drugs. The AAP's Committee on Nutrition released the guidelines as part of a clinical report on childhood cardiovascular health, published in the journal Pediatrics. It emphasized reducing the risk of lifetime cardiovascular disease by means of lifestyle interventions and cholesterol screening starting from a young age.
Read more here...
Heart risk starts early
Signs of heart disease -- generally thought to be a disease of middle age -- can be seen even in children, cardiologists now know. But risk factors in children and young adults run the risk of being undetected and untreated, largely because of confusion as to who among the young should get screened, and when.
Read more here...
Detoxification
When people begin making positive changes in their diet and drinking a lot of water, it is not unusual for them to experience detoxification. One of the most common symptoms is gas, bloating and diarrhea. One of the reasons for this is that during the years when people consume a diet deficient in water and fiber, the colon accumulates a lot of waste because it does not have the proper materials to clean itself out properly on a regular basis. Increasing water and fiber intake begins to chip away at the accumulated fecal mater, causing gas and diarrhea.
Fat and Plant-Based Diets
We are all prisoners of our taste preferences thus the food that we choose to eat is that which we have become accustomed to. Now we know that these preferences, although limiting our choices in the short run, can be changed. We do adapt and there are some good empirical studies showing this to be the case. Also there are lots of anecdotal evidence. If someone wants to consume a low fat, low salt, low protein, high complex carbohydrate diet, it may for many people be initially difficult--maybe even for weeks--but a little persistence will prove my point. I was raised, as you know on a high fat, high animal food diet--while milking cows-- and drank a lot of milk and ate lots of meat, but I can now honestly say that to go back to a high fat diet would make me physically ill. The same is true for my wife, our 5 grown children and our 5 grandchildren.
Read more here...
Health and Disease
First, the underlying biological events of health and disease are very complex, although this complexity can now be reduced to some very simple and practical messages. For example, choosing an active, plant based lifestyle and avoiding destructive behaviors such as tobacco use and over-consumption of alcohol will go a long way to improving health and avoiding disease. Second, we now have enough research information, both contemporary and historical, to make reliable and useful policy, such as setting appropriate RDA's and providing dietary guidelines that will promote worldwide health. And third, the information that promotes the health benefits of a plant-based eating style is supported by a wide variety of evidence from many different kinds of studies, both recent and in the distant past.
Read more here...
Author: Robin Badillo